Freshwater Swimming Pool
The idyllic sheltered pool is the perfect place to relax after a mornings diving or just to spend a quiet peaceful day. A large surrounding patio with thatched gazebos and sun beds provide the option for slumbering in the sun or shade.
Easy access full width steps lead you in to the shallow end at 1.2m, around the corner the maximum depth is 3m making it ideal for diver training should you decide to learn to scuba, there is no better place to learn that the Red Sea.
In the corner is a shallow paddling pool for children or to sit and read whilst submerged in the cooling fresh water.
There is a pool bar with waiter service offering drinks and ice creams between 11am and sunset.
Pool Rules
The pool is open from 7am to 7pm daily
There is no lifeguard on duty at anytime, use of the pool is at your own risk
Children must be supervised at all times
No glass is permitted around the pool
Diving in to or running around the pool is not permitted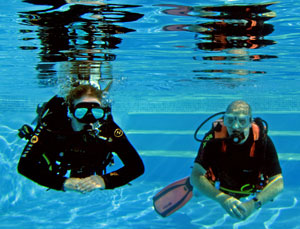 Why not Try Scuba in the Pool!